Dancing to my Heartbeat
A Mother and Daughter's Journey from Victim to Victorious
After fleeing a terror-filled marriage of 23 years, Deborah Lysholm, a professional dancer, summoned unbelievable courage and passion to start a new life for herself and daughter, Kristin. A cosmic slingshot propelled them into an unknown universe, traversing discriminatory court battles, including a first-ever domestic violence trial in civil court, and staking their place in the performing arts by building a celebrated performing arts center. Along their journey from darkness to light, they captured the attention of entertainment luminaries, and embarked on exhilarating world travels, discovering the women they were meant to be. Deborah and Kristin's inspiring odyssey is a hero's journey as they go from victim to victorious. Dancing to My Heartbeat is a candid, insightful, and educational memoir that answers the question, "Why didn't you just leave?" It conveys the beauty ahead when you do.
Reviews (from Amazon):
Inspiring and Uplifting - by HJPeters - Minneapolis, MN
In this inspiring book, Deborah shares her journey of leaving a physically and emotionally tormented relationship while raising a daughter and starting her lifelong dream in the middle of it all. Deborah's perseverance is a tribute to her fortitude to not only survive but also thrive. She shows us all that despite a dire situation you can raise a child, fight a legal battle and start your business dream--all while basically being homeless. This is a very uplifting book and Deborah delivers her prose like a dancer performing pirouettes, leaping large and tapping her own tapestry throughout the pages. Each page propelled me to read further to see how she would conquer her next obstacle to make her life better and her dream come true. Although Deborah shares her pain openly, this book is not a downer. Throughout her ordeal, Deborah discovers new friends, interesting places and achieves her dream. As you read this book,you will feel cheers of joy and triumph.
Incredible strength and determination - Michelle Hinck
Warning: Before you begin reading "Dancing to my Heartbeat" by Deborah Lysholm, make sure you have no plans for the entire day because once you start, the story is so riveting that you will not be able to put the book down. The strength and endurance Lysholm maintained through the worst of circumstances is an inspiration to us all. I cheered out loud with her ultimate triumphs! I think this story will save lives.
Triumphant and uplifting - by Julia Tagliere
I have never personally known anyone who suffered abuse at the hands of a spouse or parent. That is, I've never known anyone who was brave enough to share their stories--until I read Deb Lysholm's book. Brave doesn't begin to describe Lysholm and her daughter Kristin, as the two women share in detail what it was like to live in constant fear and unrelenting degradation at the hands of Deb's husband and Kristin's father. But far more enduring than any terror he inflicted upon them--and far more inspiring--is Deb's account of her courageous flight to freedom and a better life for her and her daughter. Every step of the way, I rooted for Deb to be strong, to keep fighting, and to find her wings, and boy, did she! To read her account of the stark years of their suffering, and to then follow their journey all the way through to its incredible, triumphant, and uplifting finale, is to be a witness to the vast, unbreakable power of the human spirit and the love that sees Deb and Kristin through it all. This is a beautifully-written story, and worth reading for anyone wanting to be moved and inspired.
A Tale of Unquenchable Courage -by Meg Corrigan
I just finished reading Dancing to My Heartbeat, and I want to thank Deb for telling this incredible story of courage and perseverance to the world! This book is well-written and told in such a way that everyone can relate, not just those who have experienced violence against women. The author's courageous spirit, and the spirit of her daughter Kristen, shine on each page, and offer a beacon of light and resilience sure to inspire all who read the book. The book presents just the right mix of telling the tragic events and interjecting humor and life lessons throughout. I especially enjoyed Deb's "building blocks" of self-esteem and her description of how finally they clicked into place. Sharing her strength with her many students is Deb's gift back to the world.
I applaud Deb and Kristen, on behalf of other authors, other survivors of violence against women and their families, and others who need to hear that we can live abundantly following trauma and tragedy. I wish these two amazing women the best in all their endeavors, and I hope to be privileged to attend one of their dance productions in the near future.
Couragous and proud! - By Liza
"... It was fantastic! I found myself tearing up several times. The abuse is enough of an emotional pull, but the indifference by the police, the courts and just people in general is infuriating....esp for the 1990's. ...Bravo Deb for pushing on and making a better life for you and your daughter as well as many other abused woman who came behind you. Not only should every woman read this, but every young man should as well, so as a society we don't repeat history any more. "Dancing" is a quick read and filled with hope and determination. I really enjoyed it!"
Inspiration on Steroid - By ConnieA
"Dancing to My Heartbeat" is tremendously inspirational ... You likely won't be able to put down this book. Be inspired; be educated, and be thankful for their safety, and for the lessons this book will teach others about life after violence. Deb deftly inserted the red flags of domestic violence into her story so her readers would understand how pervasive it is--and hopefully prevent another young woman from becoming a victim."
Your Heart Will Beat - By Kathi Holmes
"An excellent book for those looking for an inspiring message, a demonstration of courage and determination, and a romance with dance. This book is very well-written and draws you from one chapter to another with ease and curiosity. Deborah Lysholm has succeeded as a dancer as well as an author. Who would have believed after 23 years of abuse she would shine so brightly."
Dancing to My Heartbeat - By Debra A. Eddy
"...is a celebration of triumph over tragedy. Awesome, Awesome, Awesome......many tears and YOU GO GIRLS...felt through this read. Thank you, Deb and Kristin for sharing the brilliance that you embody! Lots of good information for those struggling with domestic abuse."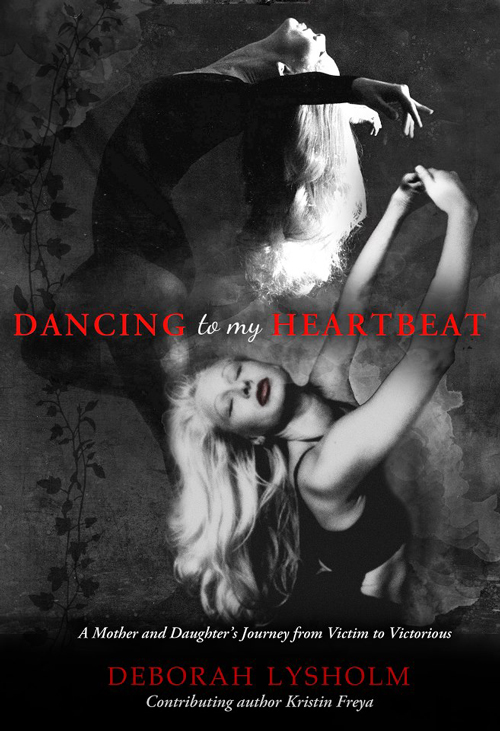 Purchase copies from these online locations:
Beaver's Pond Press at Itasca Books
Purchase copies in person:
Heartbeat Studios
7661 West 145th Street
Apple Valley, MN, 55124
952.432.7833
www.heartbeat-studios.com