Deborah Lysholm,
Deborah Lysholm is an accomplished dancer whose professional career spans more than four decades—from performing, choreographing, and teaching thousands of students, to building her own performing arts center, Heartbeat Performing Arts Center, in Apple Valley, MN. Reaching out to the world dance community, her journey has taken her around the U.S., and to Europe, Asia, and Cuba, where she established travel study and cultural exchange programs—and many friendships.
Deborah has been fortunate to study with professionals in ballet and jazz dance, and with luminaries in the tap dance community such as Dianne Walker, the late Gregory Hines, Jason Samuels-Smith, Savion Glover, Guillem Alonso, Roxane Butterfly, and Yukiko Misumi, to name a few. She has been a featured dancer in productions in several Minneapolis/St. Paul venues such as Orchestra Hall Hot Summer Jazz Festival, O'Shaughnessy Auditorium, and several jazz clubs, and internationally in Tokyo, London, and Barcelona. Deborah's choreography is highly original, appearing in a range of productions from dance recitals, musical theater such as West Side Story, Anything Goes, The Boyfriend, Oklahoma!, Grease, and The Wiz, to public service announcements and major sports events.
Several of Deborah's students have pursued the performing arts in their college careers, becoming professional dancers, actors, and teachers. In addition to a lifetime devotion to dance, Deborah and daughter, Kristin, are survivors of two decades of domestic violence, and the first in the U.S. to file a domestic violence lawsuit in civil court. Their story of survival and starting a new life has been featured in major newspapers and television news shows, and captured the attention of many entertainment celebrities. Deborah is a sought-after speaker, enlightening audiences that violence in the home still affects 25percent of U.S. women (The Centers for Disease Control and Prevention), and that we all have it in us to start over. Deborah is the author of "Surviving in Rhythm" and "East Meets West" articles published in the International Tap Association magazine, and now her own memoir, Dancing to My Heartbeat. Written with compassion from her heart to the heart of anyone in a difficult situation who desires to start over, Deborah's book educates the public about domestic violence and also the joy of dance and its incredible ability to lift spirits and heal. Deborah dares us to dream big.
Kristin Freya
Kristin's teaching philosophy is to create an educational environment that provides students with experiences to learn skills necessary to build a successful career in dance and theater. Her teaching style develops self-confidence, fosters respect for disciplined work, support through team work, and explores talent through creative opportunities to stretch and to grow. She has deeply enjoyed teaching for over fifteen years.
Kristin is the artistic director of Heartbeat Studios Performing Arts Center in Apple Valley, MN, where she teaches weekly classes in acting, modern, ballet, jazz, and composition. She directs four musical theatrical productions each year and founded the successful Heartbeat Academy Program for students to create and present their original dance composition, scripts, and theater productions. Many of the program's graduates have received full or partial scholarships in theater and dance college programs.

Kristin's professional artistic accomplishments have been diverse. In1995, she founded, choreographed, and directed the critically acclaimed Vox Medusa Dance Company, where she merges modern and jazz dance, aerial work, fire dancing, video, spoken word, opera, and original music to create epic theatrical productions. She has produced over one hundred dance productions and over sixty multi-medium dance installations that were inspired by female archetypes drawn from ethnically diverse mythological and historical sources. Her works have been performed nationally and internationally, including London, Tokyo, the Falaki Gallery in Cairo, and Barcelona. In the Twin Cities area, her works with Vox Medusa have been commissioned and presented in such venues as Walker Art Center, Weisman Art Center, Theatre De La Jeune Lune, O'Shaughnessy Auditorium, Guthrie Theatre, Fitzgerald Theatre, Loring Playhouse, Pantages Theatre, and many more. Her theatrical dance company has been honored to be the first to stage a production on the altar of the Basilica of St. Mary in Minneapolis. Kristin also founded Ricochet Kitchen, a multi-art, multi-room cabaret that showcases local and national artists of diverse dance traditions and other art mediums. In its six year history, there have been twenty-five Ricochet Kitchen events where Kristin presented over four hundred artists in unique venues around the Twin Cities.
Kristin has been awarded grants for the creation, direction, and production of dance, theater, and performance art installations from the University of St. Catherine "Women of Substance Series," Metropolitan Regional Arts Council, Falaki Art Gallery (Cairo, Egypt), St. Cloud State University, and Leeds Castle (London, England). In addition, she has received guest artist residency from Menendez Studios (Havana, Cuba), St. Cloud State University, University of Cairo (Egypt), ARTN Dance Studios in Tokyo (Japan), the MN College of Visual Art and Design, and Tap On Barcelona (Spain).
University of Minnesota: Dance and Fine Arts 1995
University of Minnesota Honors: Dance Student of the Year 1995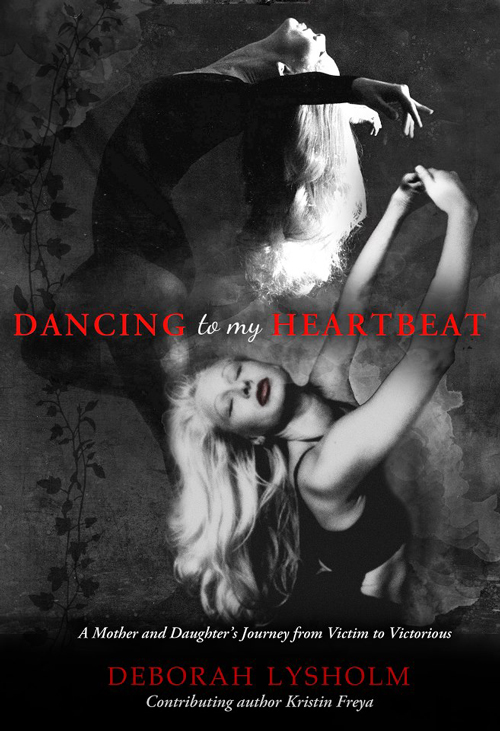 Purchase copies from these online locations:
Beaver's Pond Press at Itasca Books
Purchase copies in person:
Heartbeat Studios
7661 West 145th Street
Apple Valley, MN, 55124
952.432.7833
www.heartbeat-studios.com